By Lino Gonzalez
Mon, Dec 30 2013 4:42 pm | Comments

If you haven't already seen it Subrosa has put their full length video "Get Used To It" online now. With the list of riders Subrosa has you can expect a well rounded video featuring all types of riding but there is especially some good street stuff in here…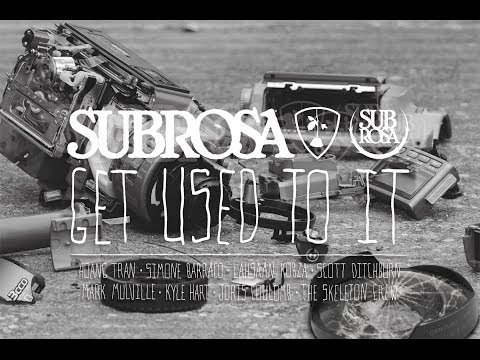 "The highly anticipated Get Used To It is available now! The first full-length video from Subrosa Brand, "Get Used To It" features full sections from Subrosa riders Hoang Tran (USA), Lahsaan Kobza (USA), Simone Barraco (ITA), Joris Coulomb (FRA), Mark Mulville (USA), Kyle Hart (USA) and Scott Ditchburn (GBR). Additional riders include Eli Platt (USA), Raphael Jeroma-Williams (AUS), Boy Janssen (NL), Ryan Sher (USA), Greg D'Amico (CAN), Greg Smee (USA) and Nick Bullen (USA).
39 minutes of action filmed all over the world. Famous spots from places like Spain, Colombia, Japan, USA, and everywhere in between, this video will leave you itching to get out and shred with your homies! 
Edited by Ryan Chadwick
Soundtrack: Buy their music and support the bands below as they have supported Subrosa and BMX by allowing us to use their tunes.
•Intro: Ace High Cutthroats "Black Fire"
•Lahsaan Kobza: Hozay "Feel the Pain"
•Joris Coulomb: Ruby The Hatchet "Holy Father"
•Scott Ditchburn: Crank "Kill My Brain Make Me Smile"
•Kyle Hart: Schweeps "Lovely Ladies" 
•Skeleton Crew: Corrupt Autopilot "Panda Blood"
•Mark Mulville: The Sword "Apocryphon"
•Simone Barraco: All My Friends "Ladies Night"
•Hoang Tran: Paul Gurvitz "Race With The Devil"
•Credits: Strange Hands "First Poem"
CATEGORIZED:
Mix Edit
,
Rider Section
,
Videos
TAGS:
best of the web
,
Hoang Tran
,
Joris Coulomb
,
Kyle Hart
,
lashaan Kobza
,
Mark Mullville
,
Scott Ditchburn
,
Simone Barraco
,
Subrosa
RELATED ARTICLES