By Lino Gonzalez
Wed, Dec 11 2013 12:10 pm | Comments

This is the third and final video in The Bakery Secret Recipe and they saved the best for last. Tons of insane stuff in here especially Dan Lacey blessing the elusive 360 to ice…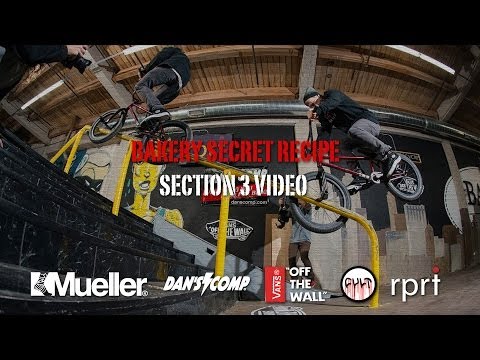 "12 of the best professional BMX street riders and one of the craziest sessions of 2013–The Bakery Secret Recipe from Chicago, Illinois. Check Bruno Hoffmann, Dan Lacey, Broc Raiford, Tony Hamlin, Stevie Churchill, Devon Smillie, Timmy Theus, Nathan Williams, Chase Dehart, Jeremiah Smith, and Dakota Roche in the second video from the event: section three with the yellow rail and upledges.
A huge thanks goes out to our sponsors: 
Mueller Sports Medicine: http://www.muellersportsmed.com/
Dan's Comp: http://www.danscomp.com
Vans: http://www.vans.com
Cult: http://www.cultcrew.com 
RPRT: http://www.rp-rt.com/
Subscribe to The Bakery on YouTube:http://www.youtube.com/subscription_c…
Like The Bakery on Facebook:https://www.facebook.com/insidethebakery
Follow The Bakery on Instagram:https://www.instagram.com/insidetheba…
Follow The Bakery on Twitter:https://www.twitter.com/insidethebakery
Filming by Andrew Brady, Tony Loconte, Paul Dybas, and Jeff Wescott
Photography by Timothy Burkhart and Nathan Beddows
Music: "Never Change" by Payroll"
RELATED ARTICLES