By RIDEbmx
Sat, Dec 22 2012 7:08 pm | Comments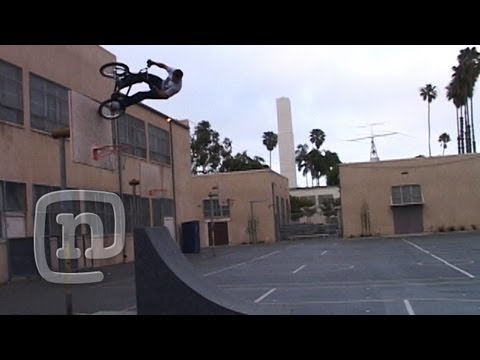 This is a really cool bit of nostalgia–a behind the scenes look at Dave Mirra's basketball hoop wall tap that happened in 2004. I'm pretty sure this ran as a DC ad, if I'm not incorrect. Either way, really dope–check it out above.
Dave Mirra jumps his BMX bike onto a basketball hoop. This short video is a behind the scenes look at a shoot for a Dave Mirra commercial, directed by Greg Hunt. Raw N' Real is a new series on Network A delving into the archives for behind the scenes antics, unseen footage, old footage, and just plain old forgotten footage.
http://www.youtube.com/networka
Watch the full series: https://www.youtube.com/playlist?list=PL5qSo-slN5sPNzsxmbNmvVFtpwZrcW8k2&…
Subscribe to Network A!
‪‪‪http://www.youtube.com/subscription_center?add_user=networka‬ 
Like us on Facebook: ‪‪‪https://www.facebook.com/networka‬‬‬
Follow us on Twitter: ‪‪‪http://www.twitter.com/networka‬‬‬
Follow us on Tumblr: ‪‪‪http://networka.tumblr.com‬‬‬
Follow us on Instagram: http://instagram.com/networka