By RIDEbmx
Thu, Nov 15 2012 12:50 pm | Comments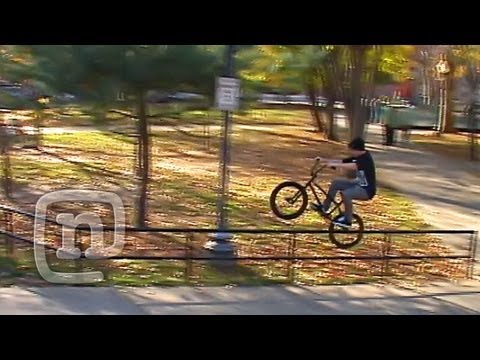 Steve-O's Peep Game edits are always tight and his latest batch of footage from the East Coast is no exception. Check out Garrett Reynolds, JJ Palmere, Sean Ricany, Jared Washington, and many more get down on some dope East Coast street setups above.
The East Coast goes hard in this scene report shot by Peep Game homie Steve Croteau! Stacked with Garrett Reynolds, Sean Ricany, Joe "Butcher" Kowalski, Augie Simoncini, JJ Palmere and Chase Dehart the boys go mad across Philly, New York, New Jersey, and Delaware. You've got to know your way around to find all these hot spots! 
Watch More Crooked World!
http://www.youtube.com/playlist?list=PL38BFDBB74F8899C4&feature=mh_lolz
http://www.youtube.com/networka
Subscribe to Network A!
‪‪‪http://www.youtube.com/subscription_center?add_user=networka‬ 
Subscribe to Crooked World!
http://www.youtube.com/subscription_center?add_user=CrookedWorld
Like us on Facebook: ‪‪‪https://www.facebook.com/networka‬‬‬
Follow us on Twitter: ‪‪‪http://www.twitter.com/networka‬‬‬
Follow us on Tumblr: ‪‪‪http://networka.tumblr.com‬‬‬
Follow us on Instagram @NetworkA