By RIDEbmx
Tue, Oct 16 2012 11:11 am | Comments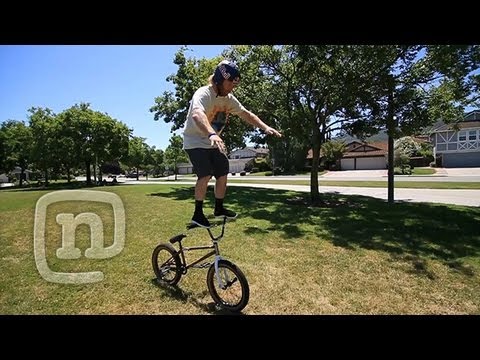 Ryan Nyquist's new web show launched today, this time bringing Mike "Hucker" Clark onto the episode to teach Ryan (and the rest of the world) bar rides. As expected, the tone of the show is pretty fun overall and there are some comical moments–check it out above.
It's the series premiere of Getting Awesome with Ryan Nyquist—a new BMX series airing alternating Tuesdays on Network A. In this episode Mike "Hucker" Clark attempts to teach Ryan a new trick—Bar Rides. Bar riding doesn't come easy as Ryan quickly learns, but he has a few tricks up his sleeve to get this one down. Will Ryan get it in his last 5 tries or will he have to buy Hucker lunch? Can you do this trick? Let us know or share your videos in the comments below.
New episodes drop alternating Tuesdays.
Subscribe to Ryan Nyquist for free:http://www.youtube.com/subscription_center?add_user=RyanNyquistneta
Show music: Rattler "Getting Awesome"https://itunes.apple.com/us/album/incoming/id341687142
http://www.youtube.com/networka
Subscribe to Network A for free!
‪‪‪http://www.youtube.com/subscription_center?add_user=networka‬ ‬‬
Like us on Facebook: ‪‪‪https://www.facebook.com/networka‬‬‬
Follow us on Twitter: ‪‪‪http://www.twitter.com/networka‬‬‬
Follow us on Tumblr: ‪‪‪http://networka.tumblr.com‬‬‬
Follow @NetworkA on Instagram