By Andrew Brady
Sun, Aug 26 2012 4:00 am | Comments

Brad Simms at BMX Camp
Take Brad Simms, throw him in a foreign country, and set him loose–guaranteed he'll do a thousand amazing things, filmer or not. Fortunately, BMX Camp in Poland was smart enough to press the record button and bring some more BSimms goodness to the BMX world. Brad absolutely destroys this plaza-like setup in Poland, and it certainly left me begging for more fresh footage from the international traveling machine.

Cory Wiergowski Sunday Edit
Cory is a man on a mission this year. He got on Sunday Bikes, filmed a section for The Hunt, and has been steadily firing out amazing edits the entire time. His latest video is filmed fully in the streets, with more crooked grinds, hard threes, and countless other gnarly moves in it. Wiergowski keeps progressing with each edit and even drops an uprail to hard 180 tailwhip out–absolutely insane and entirely impressive. It goes without saying that I'm stoked to see what this dude brings to the table next.

David Grant's 2012 Edit
David is a bit more select with the videos he puts out lately, and his latest was completely worth the wait. Filmed by good friend and incredible filmer/editor Tony Malouf, all of the clips in David's new edit are hammers. There's really no highlight in this one as it's two minutes of burly clips from beginning to end. I'm personally curious if David has anything even gnarlier saved in his trick bag after seeing this one–it looks like we'll have to wait and see.

Lotek's Charlie Crumlish Edit
Charlie Crumlish is a true original in BMX. Brakes, a freecoaster, and a creative mindset are all a part of Charlie's arsenal and he lets loose on all sorts of setups in his new edit for Lotek. While some of the jibby, ultra-creative street riding sometimes lacks fluidity and is more about the fact that someone simply did a move on an odd obstacle, Crumlish has a flow that many creative setup riders lack, and there's nothing to do but press play and enjoy.

Dillon Lloyd's MCNLBC Edit
Fudger posted this video with the caption that Dillon is going to blow up in the near future and after seeing this, I'd definitely agree. Huge moves on street meet good style–it's scary to think where Dillion is going to take his riding in the future.

Mutiny's Come Together
What do you get when you mix the incredible Mutiny Bikes team, Walter Pieringer, and three months of filming? Mutiny's latest production, entitled "Come Together." Walter and Mutiny have always been a winning combination, and the video has a vibe that's totally team oriented and straight up Mutiny's alley. Click play and enjoy fifteen minutes of amazing riding from the team in Austin, Texas.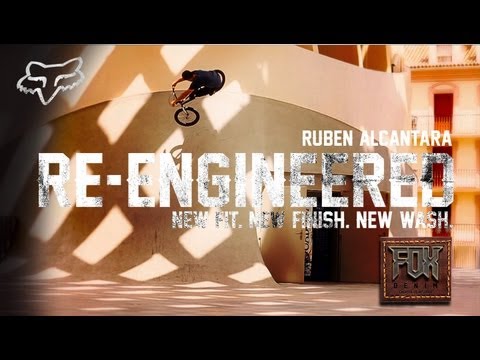 Ruben's Re-Engineered
I really love that Ruben is able to do his own thing and be supported and recognized by the BMX world for being the original that he is. His latest video is for Fox and he travels to some extremely enticing locations to film for it. The filming and production are on point, and obviously Ruben comes through with great spots and awesome riding–press play and get lost in Ruben's world.
Bruno Hoffman's Signature Frame Promo
Bruno shows the insane amounts of bike control he has, laying down every grind move possible and pushing the technical limits in his new video promoting this signature frame through Federal. Anytime new Bruno footage hits the web I'm stoked, and you should be too.
Scott Ditchburn's Chain Reaction Cycles Edit
Scott Ditchburn shows off his technical peg mastery in his new edit for Chain Reaction Cycles. Ditchburn constantly comes through with the goods with any video he puts out, and his new edit for Chain reaction was no different. Get with it and press play above.
RELATED ARTICLES