By RIDEbmx
Thu, Aug 9 2012 11:20 am | Comments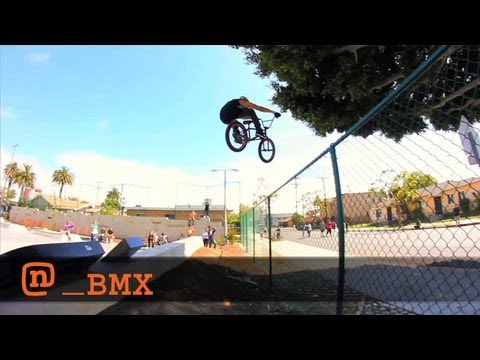 Everyone in Long Beach has been talking about Stevie Churchill's annihilation of the MLK park in Long Beach and Dylan Stark's fence hop since it happened. Now, the video footage has surfaced in an edition of "Calling the Shots" from Crooked World:
The Hunt team members re-unite — Stevie Churchill and Dylan Stark show the Long Beach MLK Park some new moves in this episode of Calling the Shots. Dylan manhandles the up rail and gaps out of the skatepark, while Stevie blows minds with more tech than Terry Adams. Big shout out to Stew Johnson adding background prop star power.
http://www.youtube.com/networka
Subscribe to Network A!
‪‪‪http://www.youtube.com/subscription_center?add_user=networka‬ 
Like us on Facebook: ‪‪‪https://www.facebook.com/networka‬‬‬
Follow us on Twitter: ‪‪‪http://www.twitter.com/networka‬‬‬
Follow us on Tumblr: ‪‪‪http://networka.tumblr.com‬‬‬