By RIDEbmx
Thu, Aug 2 2012 6:16 pm | Comments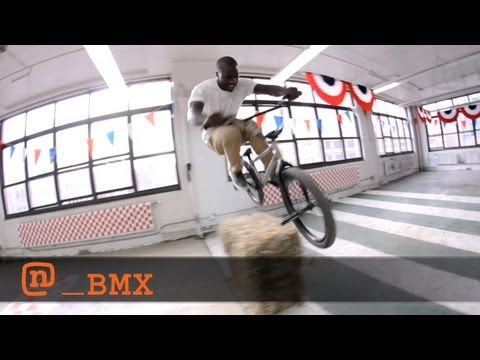 Nigel talks about the feeling that always attracted him to his BMX bike and really gets down to the roots of his passion for BMX in this episode of Get Sylvester:
In this episode of "Get Sylvester," Nigel Sylvester reflects on his childhood. Taking us on a thought conscious stroll down memory lane touching on some of the stepping stones that got him to where he is today and what drives him to continue to push all aspects of his life and BMX. He also gets a chance to stop by advertising agency Wieden + Kennedy's patriotic pop up park for a quick BMX and mini bike. Stay tuned for more from Nigel Sylvester and what he does next!
Music: "Kids From Queens" by Children Of The Night 
Directed and filmed by http://www.harrisonboyce.com. 
http://www.youtube.com/networka
http://www.youtube.com/nigelsylvesterlive
Subscribe to Network A!
‪‪‪http://www.youtube.com/subscription_center?add_user=networka 
Subscribe to Nigel Sylvester!
‪‪‪http://www.youtube.com/subscription_center?add_user=nigelsylvesterlive
Like us on Facebook: ‪‪‪https://www.facebook.com/networka
Follow us on Twitter: ‪‪‪http://www.twitter.com/networka
Follow us on Tumblr: ‪‪‪http://networka.tumblr.com
Follow Nigel on Facebook: http://www.facebook.com/NigelSylvesterLive
Follow Nigel on Twitter: http://www.twitter.com/NigelSylvester